April 21, 2019
How to Make Crabcakes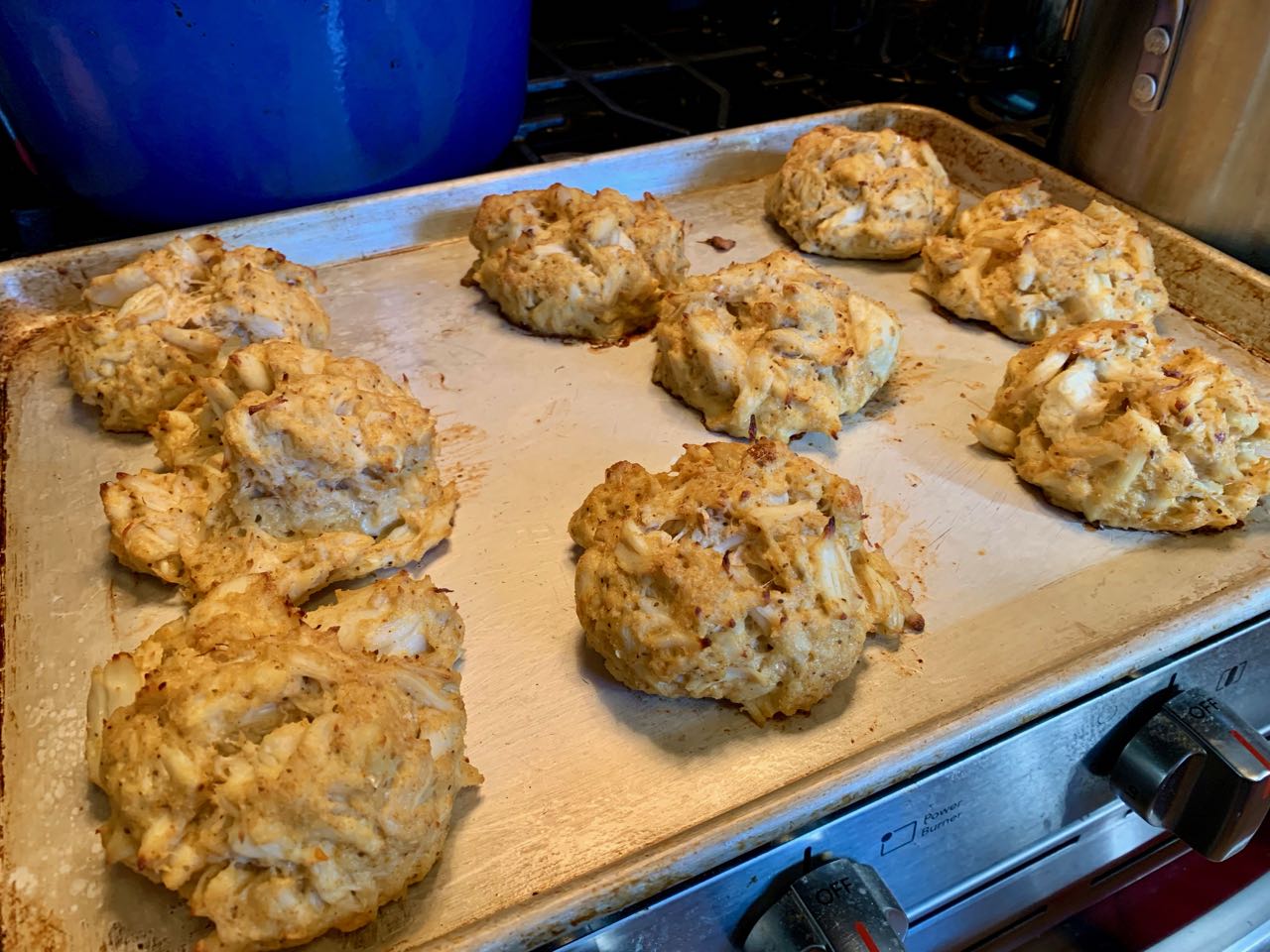 One of the key pieces of fatherly wisdom I've imparted on my children is "Never order crabcakes outside of Maryland."
I'm not sure why the rest of the country can't get them right, but they can't. So since moving to Pennsylvania and now Californa I've had to step my game up.
The key to a good crabcake is that they should be overwhelmingly crab. You want just enough binder to hold the crabmeat together and add some flavor, but you want as little filler as possible.
I bake my crabcakes in a 425℉ oven. Pan fried crabcakes are delicious but it is easy to over or undercook them and difficult to cook a bunch at once.
Here's how we make them in our house.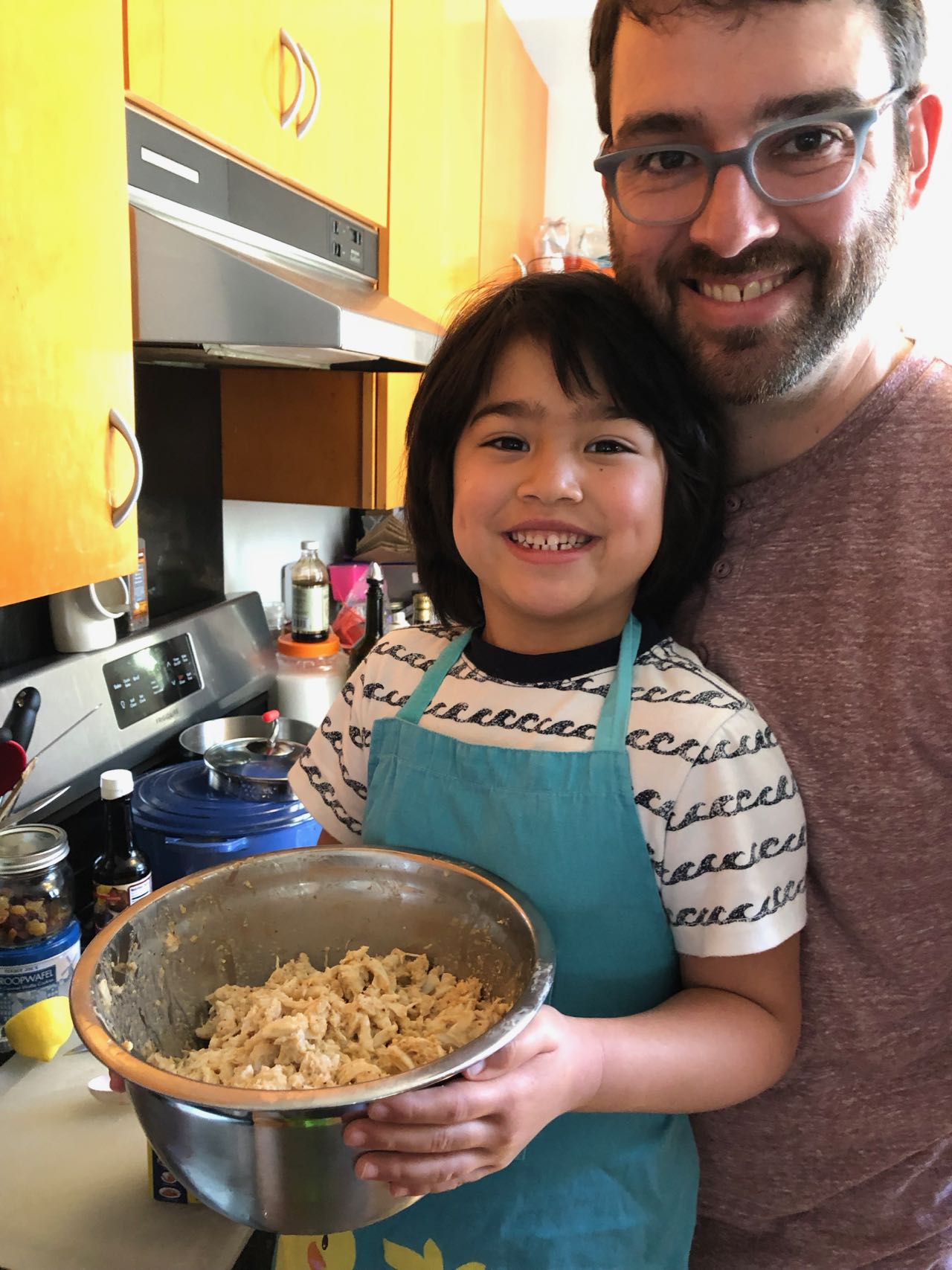 Recipe
Yield: 4 4½ oz crabcakes.
Adapted from Fine Cooking1
Ingredients
1 lb. jumbo lump or lump crabmeat (I prefer 50/50 lump and jumbo lump)
1 large egg
1/4 cup mayonnaise
1/2 tbsp. Dijon mustard
1/2 tbsp. Old Bay
1 tsp. fresh lemon juice
1/2 tsp. Worcestershire sauce
1/4 tsp. Kosher salt
1/4 cups plain breadcrumbs
Cooking Spray
1 Tbs. chopped fresh flat-leaf parsley (optional)
2 Tbs. unsalted butter (optional)
Instructions
Open the cans of crabmeat and pour out any extra liquid. Empty the crab in a medium mixing bowl, gently pick through for any fragments of shell (being careful not to break up the lumps too much) and set aside.

In a different bowl, combine the egg, mayonnaise, mustard, Old Bay, lemon juice, Worcestershire sauce, and 1/4 tsp. salt. Whisk until smooth then use a silicone spatula to scrape the mixture over the crabmeat. Get the bowl clean. Mix the crab and sauce gently with the spatula. Make sure the crab meat is well coated but do not overmix.

Sprinkle the breadcrumbs and the parsley (if using) over the crabmeat mixture. Use your hands to gently incorporate the breadcrumbs. If the mixture still has visible liquid you can add a bit more breadcrumbs but don't overdo it—you want to eat crab not bread. Cover with plastic wrap and refrigerate for 1 to 3 hours.

Spray a sheet pan with cooking spray. Cover a kitchen scale with plastic wrap. Portion out 4½ oz of the crab mixture then gently shape into a disk. You want to apply just enough preasure that the crabcake won't fall apart but not so much that you make a hockey puck. Repeat with the rest of the mixture. Cover the sheet pan with plastic wrap and put back in the refrigerator while you preheat the oven.

Preheat oven to 425℉ with a rack in the center. When oven is preheated put the sheet pan with the crabcakes in. Bake 12-16 minutes until tops are golden. If you want to be extra decadent, brush the tops with melted butter about halfway through baking.
Their recipe served as my starting point on ratios for the binder. Only problem is that they use about five times too much breadcrumbs. ↩